Posted on
March 8th, 2009
by Bob and Joy Schwabach
Anyone who has the free Adobe Reader can open a PDF, which is the most widely used method of saving documents in their original format. PDF stands for Portable Document Format and it means whatever you save that way will look exactly the same on someone else's computer. 
You can look at a PDF document but you can't touch – meaning you can read it but you can't change anything, at least not without some additional software. Adobe invented the PDF, so understandably the granddaddy of PDF editors is Adobe Acrobat. But at $300, it does a whole lot more than most people need or want. In the past, we have used and recommended PDF Converter from Nuance (formerly called Scansoft), which sells for around $50. But recently we found something cheaper. It's "PDFZilla," the Godzilla of PDF converters. We got it for $30 from pdfzilla.com.
 Comparing PDFZilla to the Nuance product, we found they did equally well on our test documents. We liked the fact that PDFZilla could convert a document to Word or HTML or even Adobe Flash (for animations). More importantly, you can try it out for free. You can only try out the Nuance product for free if you sign up for Netflix or one of a few dozen other offers. However, Nuance does some conversions that PDFZilla doesn't: It can convert PDFs to Excel or PowerPoint or WordPerfect, for example.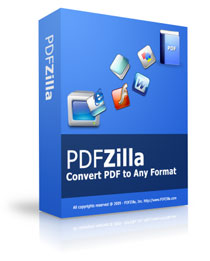 PDFZilla works with Microsoft Word as well as the OpenOffice word processor, which anyone can get for free from OpenOffice.org. This is good, because Joy's copy of MS Word hasn't worked since early in the Bush administration and we were getting desperate.
Filed under: business, digital, graphics, PDF, small business